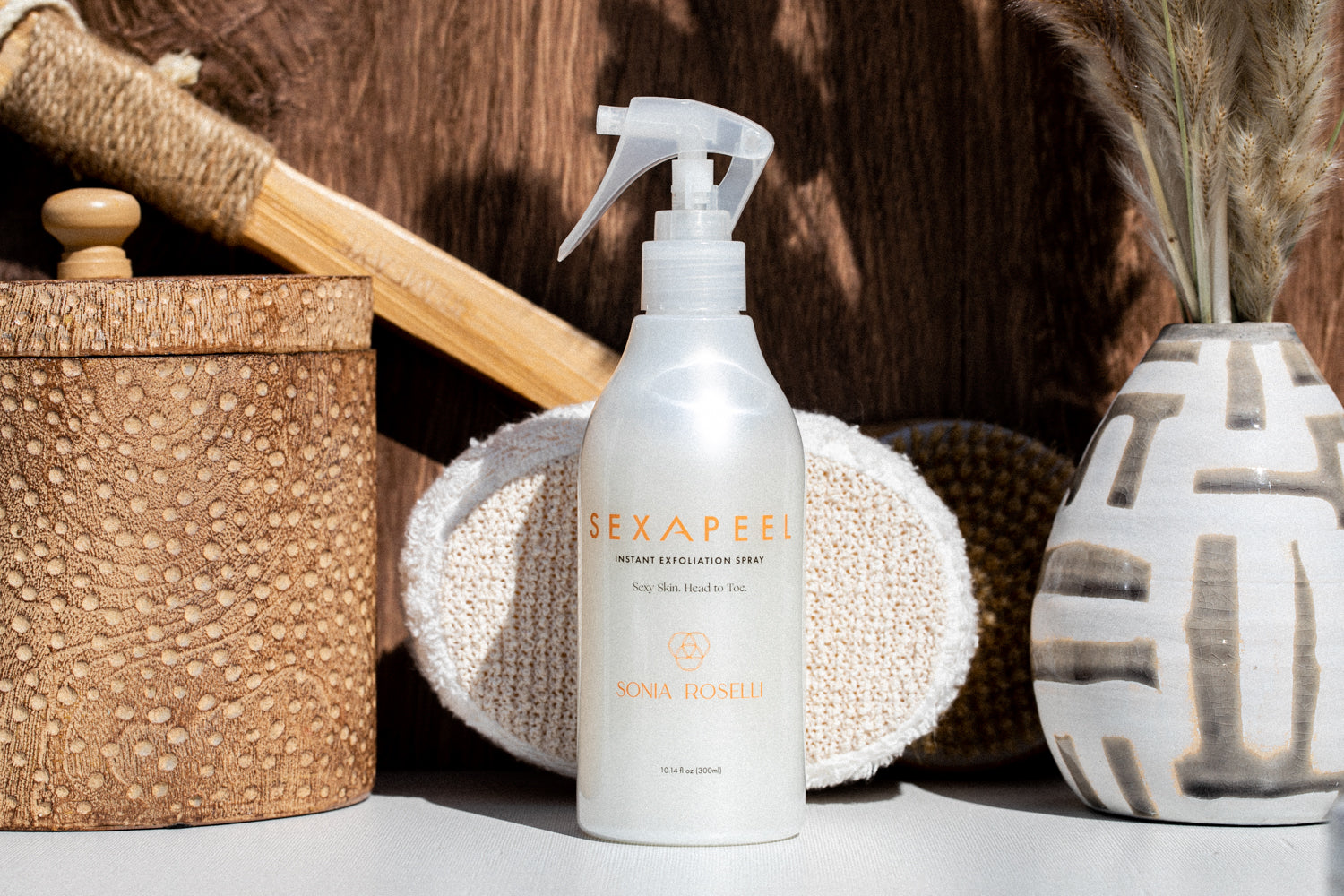 The Problem
Sensitive and afraid to exfoliate?
It can be hard to find the right way to exfoliate your delicate skin.
There has to be a better way.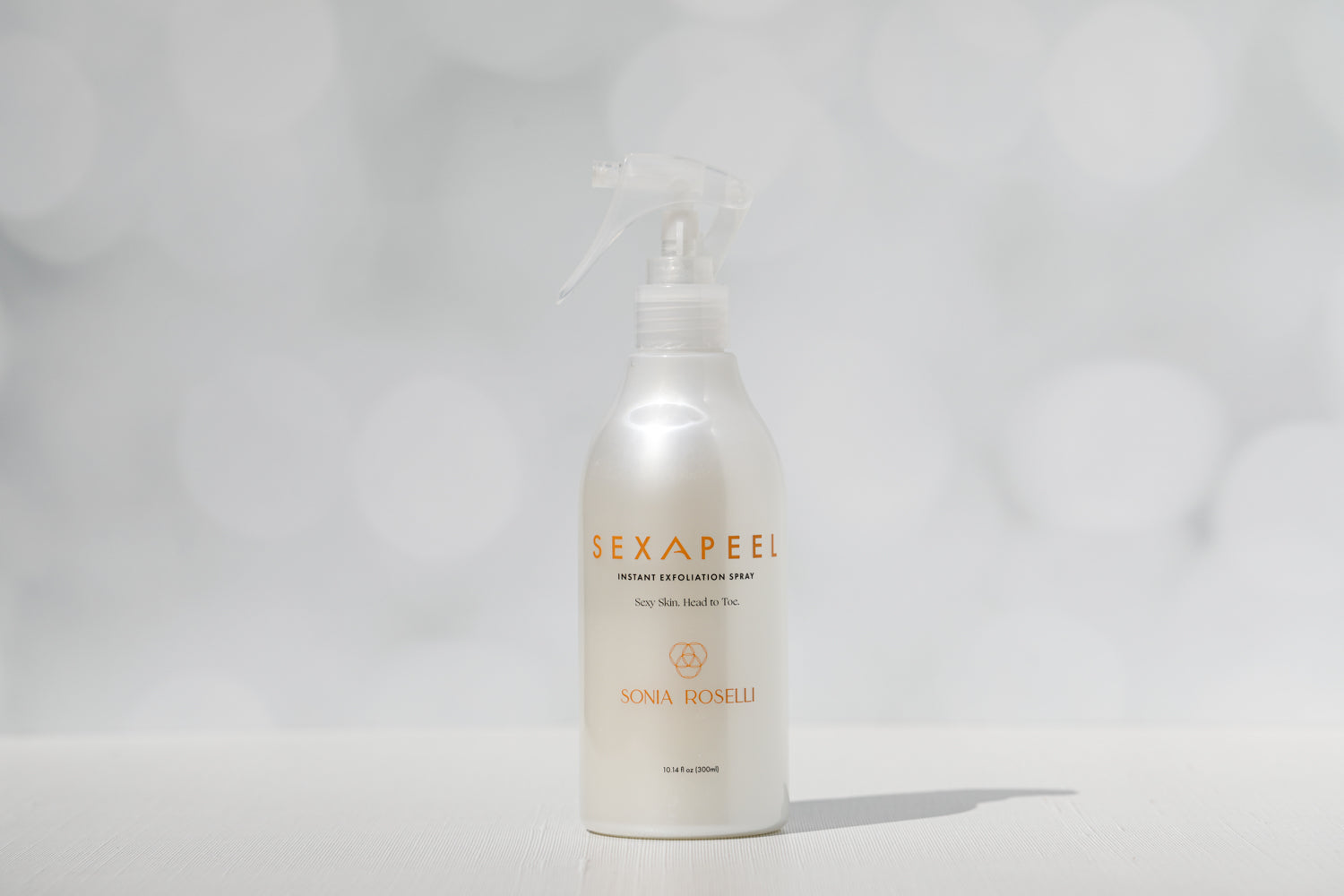 SEXAPEEL INSTANT EXFOLIATION SPRAY
AS SEEN IN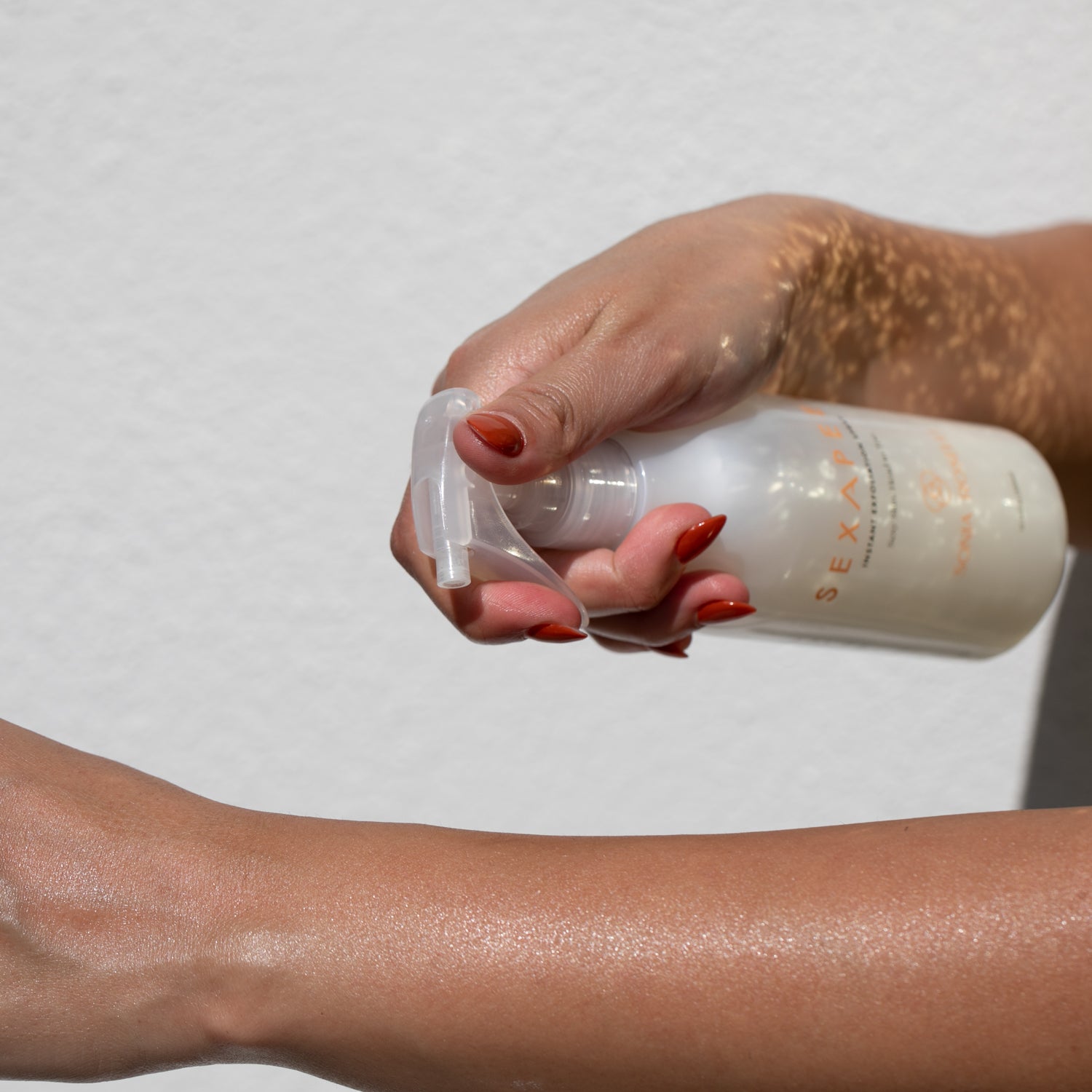 What is
Sexapeel™?
Sexapeel™ is a simple spray-on gommage exfoliator that gently buffs away dull, dead skin.

Sexapeel™ uses a mix of chemical exfoliation and soft massaging action to do its job.
No need for harsh scrubbing or irritation - just easy, glowing skin!
Buy Now
WHY SEXAPEEL™ IS DIFFERENT
GENTLE ON YOUR SKIN
"Gommage" is a type of gentle surface exfoliation that removes surface dead skin without going too deep and causing irritation.
Easy Spray USE
Its gentle formula effortlessly removes dead skin cells, revealing a smoother and renewed complexion. With its easy-to-use spray-on application, exfoliating becomes quick and convenient. Experience the joy of silky-smooth skin in no time.
SKIN SO SMOOTH
Sexapeel combines chemical and physical exfoliation methods through a special process involving enzymes and massage. This ensures effective exfoliation without harsh chemicals or irritating scrubs.
How to Use
SEXAPEEL INSTANT EXFOLIATION SPRAY
It's as easy as:
Spray
Rub
Rinse
ALL THE WAYS YOU CAN SEXAPEEL™
Face
Body
Before Spray tan
Before shave
Feet
Bald Heads
Bikini Lines
After Hair Color
For Keratosis Pilaris
CUSTOMERS LOVE SEXAPEEL
A MAKEUP ARTIST MUST!
I have consistently used Sonia Roselli's products on all my clients as a makeup artist, and none of them have ever experienced any adverse reactions. When preparing a client's skin for makeup application, I believe in creating the best possible canvas. That's why I value the gentle nature of the Sexapeel exfoliant, which can be used on a daily basis without causing any negative reaction.
Can't Live Without
I have been using this for years and its a big part of my skincare routine. I use it on my face and body. Can't live without it.
Never give this up
I love this product. This is a hardcore game changer in exfoliation. I love it. So easy to apply and my skin feels so soft and people tell me I am glowing. Will never give this up! 
★★★★★

I LOVE THIS STUFF!

This is the only thing out there that I have seen improve my skin. Can't wait to buy more!

Courtney K.
★★★★★

THE BEST EVER

This product is the best! I can recommend highly enough

Andrea D.
★★★★★

I primarily bought this for my feet. My boyfriend works in a foundry and uses it on his hands. He loves it and I love it. Thank you for such a great product

Christina F.
★★★★★

Love how my face feels after using the Sexapeel. My skin looks and feels tighter and smoother and has a nice glow after using this product.

Marni P.
★★★★★

A PRO MAKEUP ARTIST MUST HAVE!

I have consistently used Sonia Roselli's products on all my clients as a makeup artist, and none of them have ever experienced any adverse reactions.

Kiley

Los Angeles, CA
★★★★★

SexAppeal is my most treasured skincare. I bought 4 bottles. I had to buy my son one because he kept using mine! I then bought the Intense Barrier cream and I fell in love all over again. All Sonia's products are great. Keep 'em coming!

Mary Lou
WHY I CREATED THIS.
Hi, I'm Sonia
As someone with sensitive skin myself, I created Sexapeel to address the need for an easy and gentle skincare solution.

Many existing products were too harsh, so I wanted to develop something that would be effective yet gentle on sensitive skin.

Sexapeel is designed to enhance the benefits of your moisturizer, keeping your skin happy and healthy. Try it, I think you'll love it and it will become a main staple in your skincare routine for face and body.
YOUR TOUCHABLE SKIN IS WAITING!
GRAB YOUR BOTTLE
Upgrade your skincare game and love how soft and smooth your skin is.
BUY NOW
Sexapeel is a gommage peeling spray, so it's a combination of dead skin and product.

The product is balling in the skin, lifting dead skin with it, which is why it's so gentle.
It may seem that way, but it really isn't.

Sexapeel™ uses advanced Korean technology that works wonders by delicately removing the outermost layer of skin.

Its unique gommage formulation reacts with your skin's natural oils, creating a film-like texture.

As you massage the product onto your skin, it efficiently lifts away impurities, dead skin cells, and debris, leaving you with a refreshed and radiant complexion.

What you're seeing is product AND dead skin coming off, gently and easily.

Note: Sexapeel is not designed to go too deep, just that top layer of dead skin. The purpose in this is not to cause any irritation. We don't need to exfoliate down to the bone to get results.

So, Sexapeel is not a scam, but rather a clever combination of Korean science and skincare magic!
Keratosis pilaris, often referred to as 'chicken skin', is a common skin condition that causes small, rough bumps on the skin. While it's not harmful, many people want to reduce its appearance for cosmetic reasons.
To help manage keratosis pilaris, you can use a product like Sexapeel exfoliation spray. Sexapeel gently removes the top layer of your skin, helping to unblock hair follicles that cause the bumps. It works by interacting with your skin's natural oils, lifting away impurities and dead skin cells.
Sexapeel makes it easy to stay consistent, just use on dry skin before you shower.

You should apply it to dry skin, massage it in, and then rinse it off. Using it regularly may help improve the texture and appearance of your skin over time.
*However, it's important to know that keratosis pilaris can't be completely cured, but it can be managed.

Using Sexapeel, moisturizing your skin daily, and avoiding irritating soaps can all help reduce the appearance of this skin condition.
If your keratosis pilaris doesn't improve with home care, you may want to consider consulting with a dermatologist or other healthcare professional for further treatment options.
if you have facial skin that is reactive to the touch, we would not recommend Sexapeel™ as it is a gommage exfoliator. However if your body isn't touch sensitive, it makes a great product for the body, especially the feet and legs.
Yes, we never test on animals.
No, it is not advisable to transfer Sexapeel™ into a smaller spray bottle due to its thick consistency.

The formula needs to be shaken before each use, and the viscosity of the product can potentially clog most sprayers.

Therefore, it is not recommended to decant Sexapeel™ into a smaller spray bottle.
The spray nozzle has a "lock" to keep the product from leaking. Just click the latch all the way to the side and it will spray. Be sure you shake well before use.
Easy fix! Just run hot water on the tip of the sprayer for at least 30-45 seconds.

Then peel off any product that may have clogged the nozzle.

Then shake well and spray about 10 times to prime the pump. You should be good to go.
GET BETTER RESULTS WITH THESE