See what others are saying on Social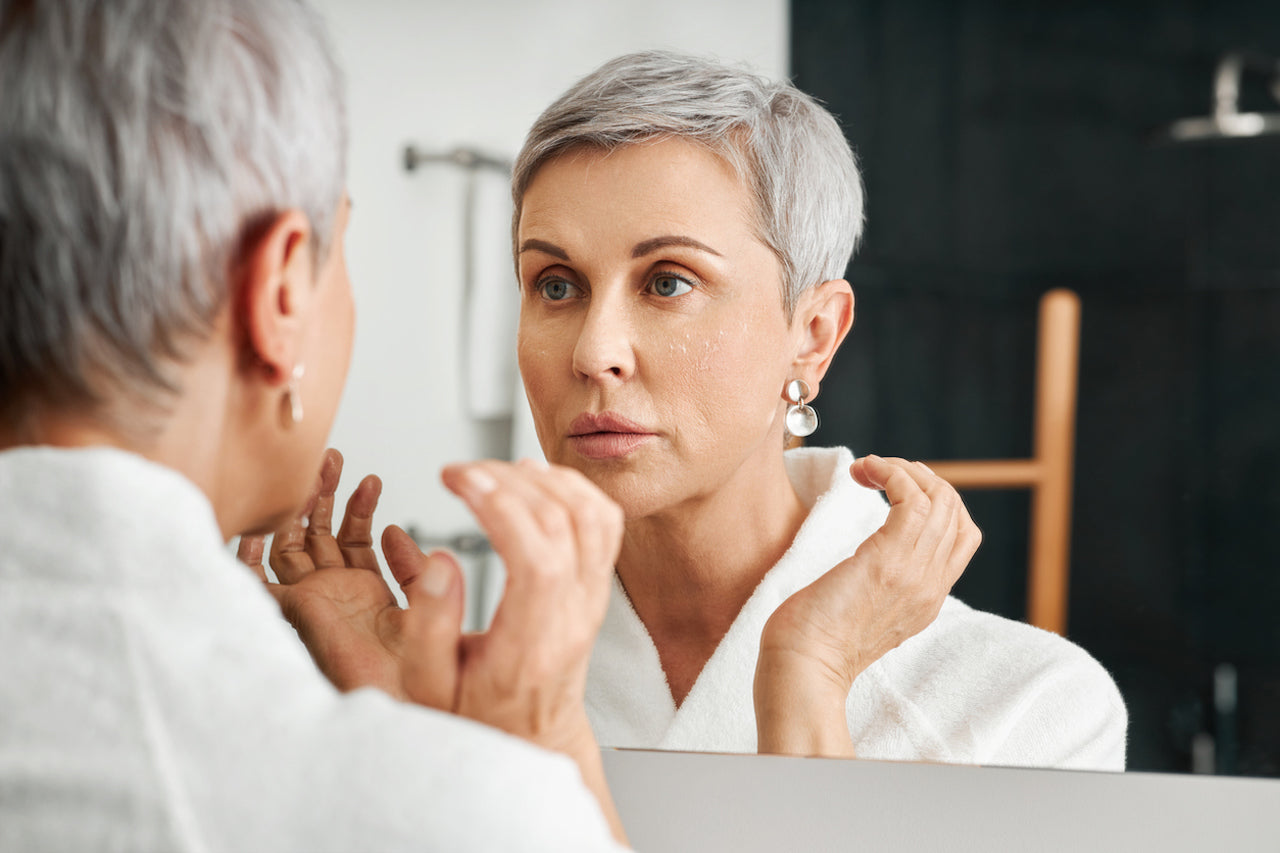 THE PROBLEM
MOISTURIZERS AREN'T ALWAYS ENOUGH
Your skin faces daily challenges - from stress, transepidermal water loss & harsh weather, leaving it dry, dehydrated and sensitive.

What you need is more than just a moisturizer. You need a boost for your moisturizer.
You need a shield that defends, deeply hydrates, and protects your skin.
FRAGRANCE-FREE
INTENSE MOISTURIZER
that helps you with dryness, irritation, and fine lines. Intense Barrier Cream moisturizer helps your skin feel calm again.
AS SEEN IN
WHY YOU NEED
INTENSE BARRIER CREAM
Hydration Maintenance: For extremely dry or dehydrated skin, it locks in moisture and prevent water loss, restoring hydration and enhancing skin health.

Skin Sensitivity: It provides relief and protection for sensitive skin or conditions like eczema, psoriasis, or rosacea.
Environmental Defense: It shields skin from harsh environmental elements like wind, cold, sun, or pollution, preventing skin damage and dryness.
Why our barrier Cream is different
Fragrance-Free
Our barrier cream is fragrance-free, making it suitable even for those sensitive to fragrances.
FEEL-GOOD TEXTURE
Formulated to provide deep hydration and make your skin feel fresh & comfortable.
DOUBLES AS PRIMER
No need for extra products. Intense Barrier Cream does it all.
YOU DESERVE THE BEST
Choose the Better Skincare Solution
Unlike ordinary moisturizers, our Intense Barrier Cream is a skin barrier, hydrator, and healthy age-defying solution rolled into one.
It works with your skin, not against it.
BUY NOW
About Our Barrier Cream
scent
Our barrier cream is fragrance-free, making it suitable even for those sensitive to fragrances.
time & effort
Intense Barrier Cream is easy to apply and seamlessly fits into your skincare routine, just replace/add to your current moisturizer routine.
skin compatability
Intense Barrier Cream is designed for dry, dehydrated skin types and specially formulated to minimize the risk of breakouts and irritation.
SIMPLE SKINCARE
HOW TO USE
Our Intense Barrier Cream is easy to use.
Warm a small amount between your fingertips and gently press into the skin as the final step in your skincare routine.
For best results, apply with our Skin Prep Brush for a waste-free precise application.
BUY NOW
SEE THE GLOW FROM OUR HAPPY CUSTOMERS!
Feels like heaven on my skin!

The Intense Barrier Cream feels like nothing I've ever tried on my skin.
I was initially skeptical, but it exceeded all my expectations. My skin is glowing, the redness is gone, and I've received so many compliments!

Thank you, Sonia Roselli, for creating such a feel-good product.
-Jade
Miracle Worker

I can't recommend Intense Barrier Cream enough! I've tried numerous products for my dry skin, but this is the first one that has truly made a difference.

My skin feels hydrated throughout the day and the texture has improved drastically. I've finally found my holy grail skincare product.
-Kayla
My Skin's BFF

Sonia Roselli's Intense Barrier Cream has been the answer to my dry skin. I love the rich, yet non-greasy feel of the cream, and my skin just drinks it up.

I've noticed a significant reduction in dryness and my skin looks healthier and more vibrant.
- Chigozie
PERFECT WITH OR WITHOUT MAKEUP
MAKEUP DAYS
Apply Intense Barrier Cream to keep that glow for hours.
NO MAKEUP DAYS
Apply Intense Barrier Cream to keep your skin feeling good all day.

WHY I CREATED THIS LINE
HI, I'M SONIA ROSELLI.
And I get it. I created this for us, the ones with skin that's, well, a bit moody. Any treatment or exfoliation, and our skin's like, "oh no you didn't!"

Picture this: my skin, going rogue after a micro-needling treatment. Not fun. But, the Barrier Repair Trio was a game-changer. Six weeks of this, and my skin started playing nice again.
The best part? After those six weeks, I switched back to my regular skincare routine with the Healthy Glow Kit, and a jar of Intense Barrier Cream and it was smooth sailing. It's not just skincare - it's a peace treaty with our skin with a believable, youthful glow.
Ready to join me?
GET BETTER RESULTS WITH INTENSE BARRIER CREAM
Get Healthier, More Radiant Skin Today
With the Intense Barrier Cream, you'll not only soothe and protect your skin, but you'll also enhance its natural beauty. It's not just about skincare; it's about skin health.
BUY NOW
Yes and no. Traditional barrier creams and moisturizers are not quite the same.

Barrier creams primarily focus on providing a protective layer on the skin to shield it from irritants and potential damage, while moisturizers are designed to hydrate and maintain the skin's moisture balance.

Intense Barrier Cream does both. You can use it WITH your moisturizer, like Water Balm, or use it on its own.

I personally like to pair it with Water Balm for most skin types (especially dry) as I designed them to work together.
Barrier creams are used to protect the skin from irritants, allergens, and potential damage caused by exposure to harsh environments or chemicals.

They can be especially helpful for those with sensitive or compromised skin in preventing inflammation and irritation.
Daily and sometimes twice a day, depending on the skin. Some days you may not need it.

The goal is to give your skin what it needs each and every day.
Nighttime:
Barrier cream should be applied after moisturizing to lock in the hydration and form a protective layer on the skin. It is essential to fully absorb the moisturizer before applying the barrier cream for maximum effectiveness.

Water Oil should live on top of Intense Barrier Cream if desired.

For Makeup Prep:
However, for makeup, Intense Barrier Cream should live under Water Balm, and Water Balm as your last step before sunscreen and foundation.
Barrier creams can provide relief and protection for those with dry skin conditions as they can help to lock in moisture, alleviate skin dryness, and protect against irritants that may worsen the condition.

However, it is crucial to consult with a healthcare professional for specific recommendations and treatments for psoriasis.
In most cases, barrier creams should not be applied to broken or damaged skin, as it may cause further irritation or prevent the skin from healing.

It is essential to seek medical advice if dealing with broken or severely damaged skin before applying any creams or treatments.
While barrier creams are designed to prevent or calm skin irritations like dermatitis, some individuals may experience an allergic reaction or sensitivity to certain ingredients found in these creams.

If you suspect a reaction, discontinue use and consult a healthcare professional.
Some barrier creams do contain silicone as an ingredient to help create a protective barrier on the skin.

Silicone in barrier creams is generally considered safe and fantastic for topical use, and it provides a non-greasy protective layer that is water-resistant and can reduce friction.