THE PROBLEM
DRY, DEHYDRATED, RED SKIN
We understand how dry, irritated, and red skin can affect your confidence.

There has to be a better way...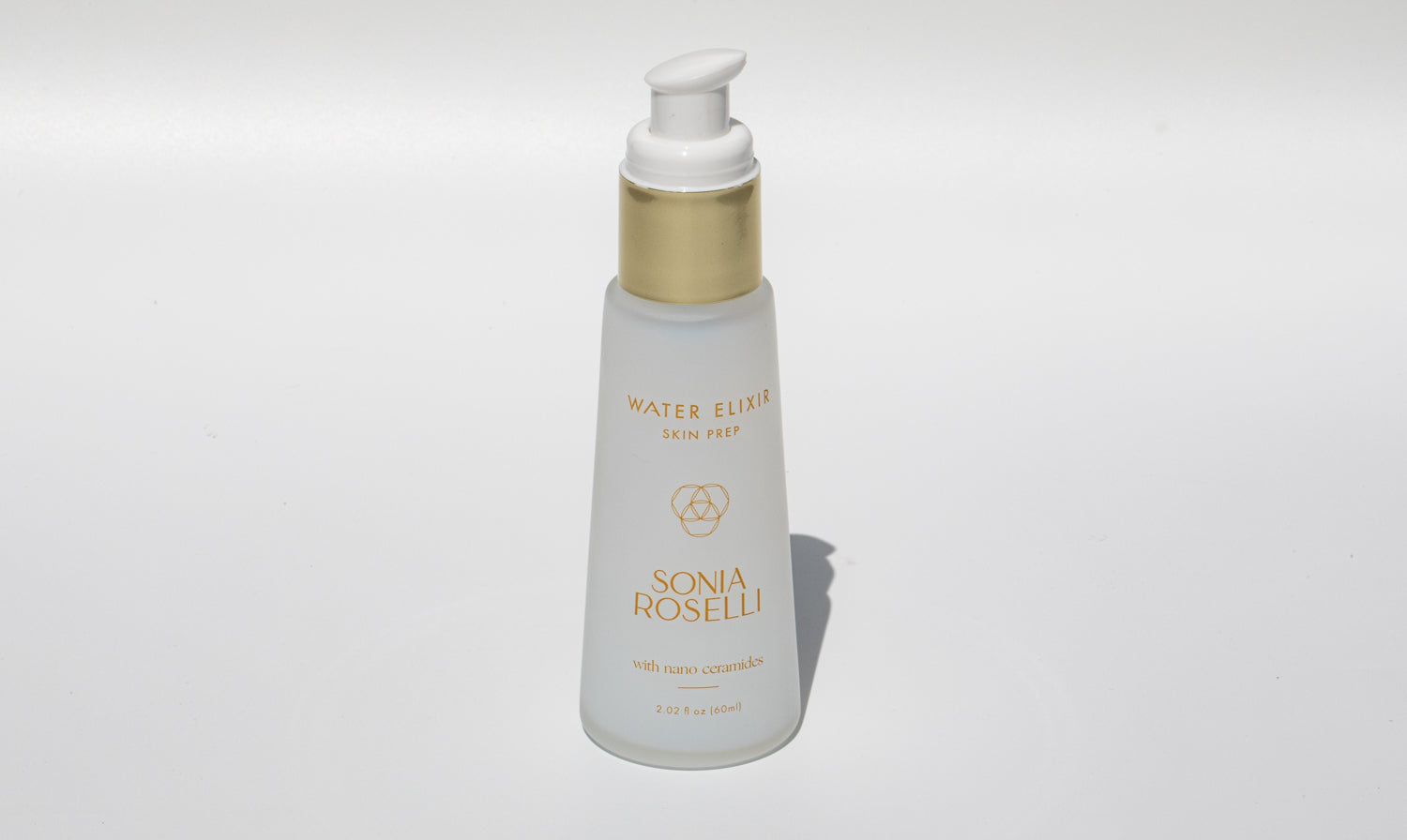 Deeply hydrate, soothe, and rejuvenate your skin
AS SEEN IN
WHAT IS
Water Elixir?
Water Elixir is a soothing and moisturizing Japanese essence.

Essences, like Water Elixir, are staples in Japanese skincare.

They're lightweight lotions full of potent ingredients.

Think of Water Elixir as your two-in-one serum and moisturizer. It hydrates your skin and boosts the effectiveness of your other skincare products.
BUY WATER ELIXIR
WHY WATER ELIXIR IS DIFFERENT
CALMS REDNESS
Water Elixir stands out with its unique Onsen-sui. This mineral-rich Japanese spring water element nourishes and revitalizes your skin, offering benefits not found in many other essences. You'll feel the difference in one application.
SUPER HYDRATING
Water Elixir features a special mix of ingredients like glycerin, sodium hyaluronate, and amino acids. This potent blend uniquely hydrates and locks in moisture, giving your skin deep hydration unlike any other essence.
Plumps fine lines
Water Elixir contains nano-ceramides, which are lipids that form a protective barrier to help prevent moisture loss and protect the skin. They can help keep your skin hydrated, plump, and youthful-looking.
HOW TO USE
WATER ELIXIR
Step 1: Wash your face with Japanese Cleansing Oil.
Step 2: Pump a few drops of Water Elixir essence in your hands and press gently into your skin.
Step 3: Finish with your Sonia Roselli Beauty skincare products like Water Oil and Intense Barrier Cream.

For best results, apply with our Skin Prep Brush.
NANO CERAMIDES
Rich in nano ceramides, Water Elixir will enhance your skin's barrier, boost hydration, and enjoy smoother, calmer, and more resilient skin.
superoxide dismutase
Anti-inflammatory, which can help to soothe and calm irritated skin, potentially helping conditions like rosacea.
Amino Acids
Boost hydration, repair skin, slow down aging, soothe inflammation, and improve skin texture with the power of our intense cocktail of amino acids.
Kayla's Story
Redness, irritation and dehydration really was affecting Kayla's skin.

8 Weeks after using the Sonia Roselli Skincare Routine, including Water Elixir, her skin is less red and more hydrated and she has gotten her beautiful glow back.
SEE THe GLOW FROM HAPPY CUSTOMERS
Redness be gone!
I have noticed a huge improvement in the redness in my skin. But the best part? How my skin feels after using it! Nothing like it. I almost hate to wear makeup on top. Absolute staple in my routine.
-Layla
5 Years +
I've been using these products for 5+ years and my skin doesn't like anything else.

I pair it with Water Oil, Water Balm and it's the perfect combination of hydration and oil for my dry skin.
-Glyniss
IMPRESSIVE!
At first I thought, "This is just water, how good can it be?" But it was SO much more than that. After a few days my skin was less red and I was hooked. My skin loves it!

I have it on auto-ship because I can never be without it.
-Rebecca
PERFECT WITH OR WITHOUT MAKEUP
MAKEUP DAYS
Non MAKEUP DAYS
WHY I CREATED THIS
HI, I'M SONIA ROSELLI.
And I get it. I created this for us, the ones with skin that's, well, a bit moody. Any treatment or exfoliation, and our skin's like, "oh no you didn't!"

Picture this: my skin, going rogue after a micro-needling treatment. Not fun. But, the Barrier Repair Trio was a game-changer. Six weeks of this, and my skin started playing nice again.
The best part? After those six weeks, I switched back to my regular skincare routine with the Healthy Glow Kit, and a jar of Intense Barrier Cream and it was smooth sailing. It's not just skincare - it's a peace treaty with our skin with a believable, youthful glow.
Ready to join me?
Grab Your Bottle
Upgrade your skincare routine today and feel the difference in just one application.
BUY NOW
GET BETTER RESULTS WITH WATER ELIXIR
Essence, like Water Elixir, is a skincare product that hydrates and prepares your skin.

Water Elixir boosts hydration, balances your skin, and helps other products work better.

It's great for anyone who wants smoother, more moisturized skin.

If you have redness, an essence can help soothe and reduce it, giving you a more even complexion.
Essence, like Water Elixir, is typically used after cleansing and toning your skin and before applying serums, moisturizers, or oils.

In your skincare routine, you would use essence immediately following cleansing and toning, while your skin is still slightly damp. This helps the essence to absorb more effectively and lock in moisture.

After applying the essence, you can continue with the rest of your Sonia Roselli skincare routine, such as applying serums, moisturizers, or oils.
Here is our suggested step-by-step:

Dry, Dehydrated Skin:
1. Japanese Cleansing Oil
2. Water Elixir
3. Water Oil
4. Intense Barrier Cream
5. Water Balm

Then use Sexapeel 2x a week.

Oily, Dehydrated Skin:
1. Japanese Cleansing Oil
2. Water Elixir
3. Water Balm