YOU DESERVE SKIN THAT LOOKS & FEELS GOOD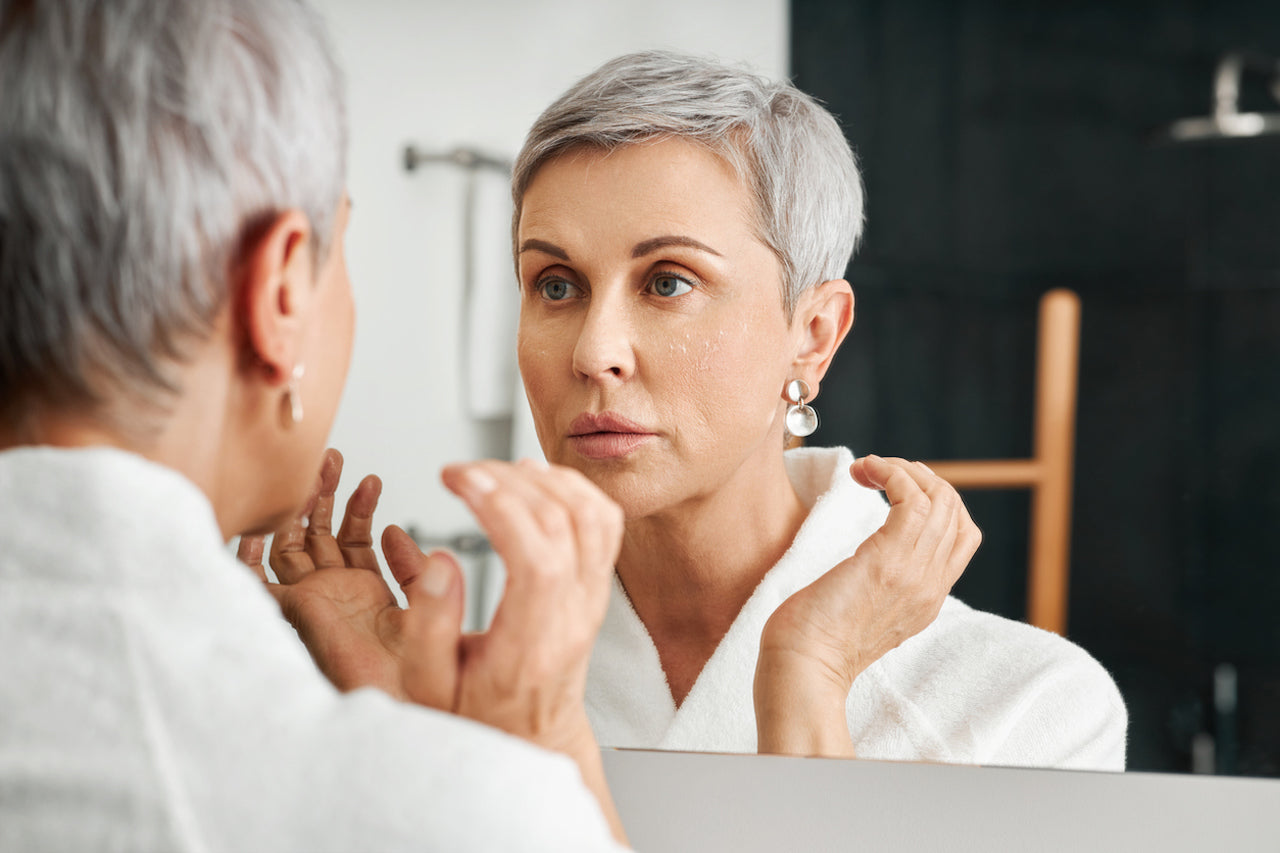 THE PROBLEM
Your Skin Is ALWAY DRY & DEHYDRATED
When you have dry, dehydrated skin, transepidermal loss is your enemy. What if there was a moisturizer that kept your skin feeling comfortable and hydrated for hours?
THE BEST FEELING MOISTURIZER ON EARTH
AS SEEN IN
MADE FOR
Dehydrated Skin
Hydration matters for ALL skin types.

Environmental factors, harsh cleansers, and lifestyle choices can deplete moisture, leaving your skin tight and lackluster.

Enter our Water Balm: a skin-saving hero. With Ceramides and nourishing ingredients, it restores and locks in moisture, helping your complexion look radiant again.
BUY NOW
WHY IS WATER BALM DIFFERENT?
24 HOUR HYDRATION
With Water Balm's extraordinary water bead technology, these minuscule reservoirs hold a treasure trove of powerful ingredients, including amino acids, ceramides, and skin loving serums.

As you apply the balm, watch in awe as the beads burst open, releasing an awe-inspiring surge of moisture and nourishment.

This enchanting delivery system ensures deep, quenching hydration, while bolstering your skin's protective barrier and transforming its overall health.

Get ready for moisturized skin that will leave you and others in awe.
BLURS SKIN
Water Balm is more than just hydration. It's a remarkable skin perfector, like a photo filter for your face.

This innovative formula creates a blurring effect that evens skin tone, minimizes pores, and smooths your complexion.

With light-diffusing properties, Water Balm gives you a soft-focus, flawless finish—whether you wear it alone or under makeup
INSANELY COMFORTABLE
Get ready for an amazing skin comfort journey with Water Balm.

Its smooth texture glides effortlessly, wrapping your skin in a cozy, soft feeling that's unlike anything you've ever tried.

It's lightweight and doesn't leave any greasy or sticky residue.

Using Water Balm is like entering a sanctuary of comfort, as it plumps and refreshes your skin. Discover a whole new level of skincare that feels extraordinary, as Water Balm becomes an unforgettable part of your daily routine.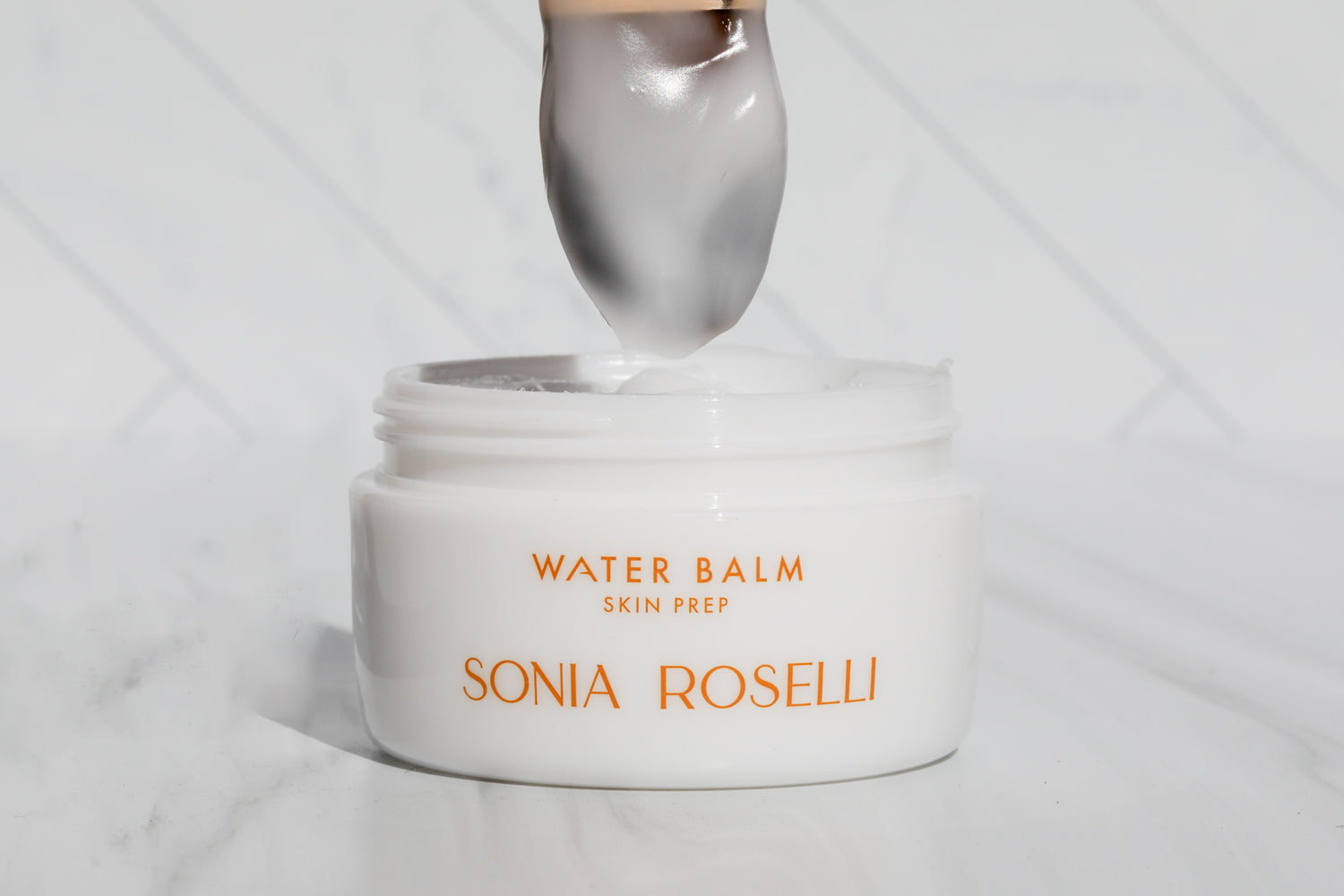 HOW TO USE
WATER BALM
Follow these simple steps:
Take a pea-sized amount of Water Balm.
Tap it between your fingertips to open water beads.
Gently press and spread it onto your face.
Massage it in using light, circular motions.
For best results, use the Skin Prep Brush to get an even application and absorption.
BUY NOW
PERFECT WITH OR WITHOUT MAKEUP
BEFORE MAKEUP
Water Balm is absolutely perfect before makeup. Throw out your primers, Water Balm is your moisturizer and primer all in one!
Buy Now
Without Makeup
Water Balm is great for going without makeup too! The soft focus blurring effect makes your skin look incredible, no makeup needed.
Buy Now
WHY I CREATED THIS
Hi, I'm Sonia Roselli
My goal was to create a skincare solution that changes the game.

I wanted to offer an effective routine that nourishes the skin and works as a makeup primer, so you don't need extra products. That's why I created Water Balm—a multi-tasking miracle worker that protects your skin barrier, delivers impressive results, and simplifies your skincare routine.

With Water Balm, you get it all in one product, ensuring optimal performance without any worry of irritation.
READY TO FALL IN LOVE WITH YOUR SKIN?
Our best selling product is a best seller for a reason!
Grab your jar today! Thank me later.
BUY NOW
Water Balm Partners Well With:
Water Balm creates a smooth and flawless base, allowing foundations of all types of foundation to blend seamlessly.

It enhances the longevity and performance of your foundation, giving you a natural, radiant finish.
Water Balm has a extremely subtle scent that adds to the sensorial experience.

The fragrance is from rosa damascena flower water, which flashes off quickly without any irritation . There is no chemical fragrance or essential oils in Water Balm.
Water Balm absorbs quickly into the skin, leaving no greasy residue behind. Its lightweight formula ensures rapid absorption, providing instant hydration and leaving your skin feeling refreshed.

However, the more you put on, the more you will need for it to be asorbed into the skin. Applying with our Skin Prep brush helps you get just the right amount on without wasting precious product.
Absolutely! Water Balm's nourishing formula makes it an excellent choice for an overnight mask. Apply a slightly thicker layer before bed or a big event. Once dry, massage in.

Wake up to plump, hydrated, and rejuvenated skin.
Definitely! Water Balm is formulated with gentle ingredients, making it suitable for sensitive skin. It provides soothing hydration without causing irritation or discomfort.
Absolutely!

Water Balm is formulated to provide hydration without leaving a greasy or sticky residue. It absorbs beautifully into the skin, leaving it feeling fresh and nourished. Just use a little for maximum benefits.
Not at all!

Water Balm is carefully crafted to provide lightweight hydration that absorbs quickly into the skin.

You won't experience any greasiness or stickiness, just a comfortable, velvety feel.
Not at all!

Water Balm is formulated with non-comedogenic ingredients that won't clog pores or cause breakouts. It nourishes your skin while maintaining its clarity and promoting a healthy complexion.
Absolutely! Water Balm is an ideal makeup primer, creating a smooth canvas for flawless application.

Its lightweight texture helps your makeup adhere better, ensuring it stays in place throughout the day. Apply with our Skin Prep
brush for a perfect application.