How to Get Makeup Clients Who Will Pay Your Rates Without Being Shit Birds!
Why Is Wedding Makeup Is Expensive!! How often have been asked that by potential brides only to want to pull your hair out!?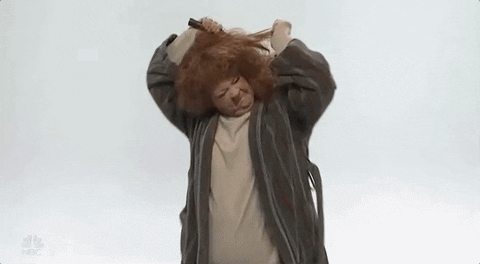 Being a makeup artist is challenging enough--as if I have to tell y'all. So that's why it drives me just a little bit insane when I hear the question, "Why is wedding makeup so expensive?"

Would we tell people who go to their 9-5 job they're too expensive? If you did, you'd get cussed out and real quick like, right? So why do WE feel so attacked when this shit happens to us!?
Top Reasons Why Wedding Makeup Is So Expensive in 2022!
Reason #1 Why Wedding Makeup Is So Expensive:

In the Covid climate, bridal artists are taking some major risks to their health (not to mention the health of their families) in order to do wedding makeup.
Of course you're all taking the proper precautions...but we know that's no guarantee. So, yeah, if I'm risking my safety for a wedding, I expect to be compensated accordingly. #sorrynotsorry
Reason #2 wedding makeup is more expensive

There's the tools, the kit, the equipment, the PPE (!), not to mention the years we spent honing our craft. Maybe some people don't really think about it, but that all costs money!
If you want to hire someone off the street because you don't want to spend the money, that's your prerogative. You want to watch some overrated YouTube or TikTok influencer and try it for your wedding day? Go for it.
But if you want a skilled, experienced artist who will make you look your most beautiful on the most important day of your life, expect to pay more. You get what you pay for...it's a pretty simple economic concept, right?
PLUS, if we're talking about weddings, you're looking at more people, more time, possibly having to travel, brides and bridesmaids with frayed nerves. So, yeah, weddings are gonna cost more, especially with the 'rona still running rampant.
But here's the thing--if you're tired of the "why is this so expensive?" questions (and others like it) or you just don't want to deal with the risks or the hassles of dealing with big weddings, you don't have to. Simply don't take them on as clients.
"But Sonia, I need the money!!!"
Hey, I hear ya. I'm not saying to turn down every potential paycheck. We gotta make a living, right?
But take a step back and ask yourself, is the paycheck worth dealing with people or situations that make your life a never-ending misery? I say HELL no.

Reason #3: Weddings are a Convenience & A Luxury

Servicing Brides on Location is a luxury because it's convenient. They can get ready in the comfort of their own home or hotel. That, my friend is a automatic upcharge.

"But Sonia, that's all great but I don't know how to get makeup clients?"
Finding makeup clients who will pay your rates can be hard, that's why I highly recommend finding the right client for YOU. There is an old saying in business. We're not for everyone and that's ok. 

There's a process--it involves some work and some research and lots of questions. But trust me when I tell you, kittens, it is 100% worth it in the end.
Picture this...instead of questions about your prices, and the headaches asshole bridal parties who make your life a living hell, and the ignorance of people ignoring safety precautions, imagine all your clients telling you how much they appreciate your work, how much they love the way they look, that they don't mind paying a little more for your services!

Sounds like a dream, right? Well guess what. These types of client exisist and they will happily pay your rates but only IF they see you as the expert for their wedding day!

My course "Finding Your Ideal Client"  makes all of this a reality for makeup professionals. You know the shit that beauty school didn't teach you!

What you'll learn inside: 
My digital marketing secrets to book brides while you sleep (this is jaw-dropping good!) and how I used to build a multiple 6-figure income.
How to attract your dream clients (who won't push back on rates! #moremoney)
How to position yourself as a luxury business to stand apart from the crowd. 
How to build your website's SEO so you appear on the first page of Google search! 
Know exactly what to post on social media instead of being trapped in a time-sucking hamster wheel of content. 
Through client interviews and questionnaires, you'll find out all you need to know about prospective clients...so if you don't like what you hear, there's no need to fire anyone or have that awkward conversation. You simply tell them that you're not the right fit and that they might benefit from someone else's services more. That way, they're happy and you're happy--everyone's happy.
You'll also learn what clients love about you--and maybe even some things they don't.

That type of knowledge is valuable on so many levels. If you know what people enjoy about you and your business, you use that to market your biz. And if you know what you need to work on, you can smooth out the wrinkles of your biz--or even yourself--and give clients only amazing things to say about you and your brilliance.
When you're looking how to get makeup clients you'll love, you need to know WHO you want to serve.

Here's the thing: If you are looking to find your ideal clients, you need to sign up for my Finding Your Ideal Client Course now. 
---